Apple recently launched its brand new operating system – the macOS Big Sur for Mac devices and the OS brings in some great new features that make the user experience much better. With the Big Sur update on Mac devices, a lot of Apps from the company got major updates along with some new features and the same thing happened with Safari.
Safari is a popular web browser among Mac users and with the latest update, it allows users to set up an image of their choice as a background on the web browser, which was not possible earlier. The feature is also available for the users who are using the macOS Catalina version which is a great thing because a lot of users haven't upgraded to Big Sur yet because they are waiting for the OS to go completely bug-free. In this guide, we are going to show you How to set custom backgrounds in the Safari browser. Without waiting further, let's get started.
How to set custom backgrounds in Safari
Method 1
The first method on our list is also the easiest method to set a background in Safari. Have a look at the steps below to see how it's done.
Step 1: Just search for the image or download the image that you want to use as your background on Safari.
Step 2: Once you've found the image just drag and drop it on the Safari start page and your work will be done.
Method 2
Step 1: Open Safari on your Mac device and right-click anywhere on a blank space near the settings icon or your start screen.
Step 2: Click on the "Choose Background" option and select the image that you want to set.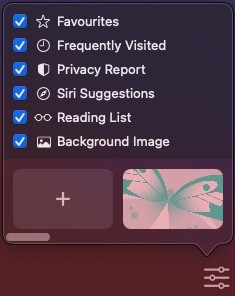 That's all, folks! If you want to remove the custom background in the future just right-click on the blank area on the start page and click on the option "Clear Background." Doing this will remove your custom background and reset the background to its original state. If you liked this guide, don't forget to share it using the social media buttons.