There might be several reasons behind your PC starting up slowly. While boot time highly depends on the hardware you are using in your Windows 10 system, there are some software settings too that can help you to make your PC boot faster.
Usually, if Windows 10 is installed on a 5200RPM or 7200RPM Hard disk instead of an SSD it takes a longer time to boot due to the slow hard disk speeds. In addition to this, your startup apps also play a major role in your boot time. If you have a lot of startup apps enabled, your Windows 10 system will take longer than usual to boot up because when you start your PC the Apps also start automatically and this has an impact on your startup speed. Hence in this guide, we are going to show you How to make your Windows 10 PC boot faster. Without waiting further, let's get started.
Method 1: Turn on Fast Startup
Windows 10 comes with a lot of exciting features however some useful features are hidden and users don't know about them. Fast Startup mode is one of those features and it helps your Windows 10 system to boot faster. To enable Fast Startup mode all you have to do is:
Step 1: Bring up Power Options from your Control Panel and click on "Choose what power buttons do" from the sidebar. To bring up Control Panel simply click on your search bar and make a search for the control panel.
Step 2: On the next page, click on  "Change Settings that are unavailable" and continue with the process.
Step 3: Under the "Shutdown Settings" section enable the option which says "Turn on fast startup". Once done save your changes by clicking the button from the bottom.
That's all! Doing this will enable Fast Startup on your PC. While this was the first method, users can also disable unwanted Startup Programs to improve their boot time. Let's see how it's done.
Method 2: Disable the Startup Apps which you don't need.
As mentioned above the Startup Apps play an important role in the boot time of your system and hence disabling the unwanted programs becomes important. Have a look at the steps below to see how it's done.
Step 1: Bring up the Task Manager on your Windows 10 system. To do this simply press Ctrl+Shift+Esc or Ctrl+Alt+Delete keys together on your keyboard. Alternatively, you can also use the search bar and make a search for "Task Manager" to bring it up.
Step 2: Once the task manager is running on your Windows 10 system click on Startup from the top to bring up the list of programs that automatically start as you boot your PC.
Step 3: Look for the Unwanted Apps in the list. Once you find them click on each app individually and then click on the "Disable" button from the bottom right corner to disable the App.
Have a look at the image below to see how it's done.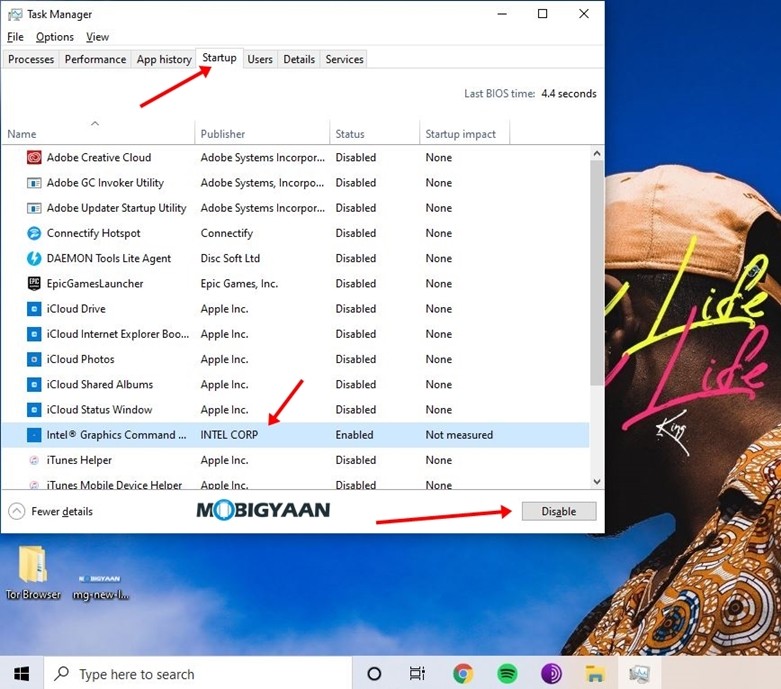 That's all, folks! If you followed all the steps mentioned above we are sure that you'll start seeing better startup speeds. Since this also depends on your hardware you can further improve your performance by installing your Windows on an SSD since it offers way better speeds than a Hard Disk.  Were we helpful? Let us know in the comments below and before you go make sure you check more Windows 10 guides here.