It's been a few months since Apple released iOS 14 and users have been loving it since the day it came out. Thanks to the amazing features and the overall UI change it brings in, mostly everyone has updated their iPhones to the latest iOS 14. Apple makes it easier for you to share files with the people you are regularly in touch with as it brings in the suggested contacts feature in the Share Sheet. However, with the introduction of iOS 14, Apple has made that feature better as it now gives users the control to remove suggested contacts from the share sheet in the iPhone.
This can be a useful feature because a lot of users often shared files mistakenly to their suggested contacts and turning off suggested contacts will help to prevent this. Hence, in this guide, we are going to show your How to remove suggested contacts from the share sheet on your iPhone. Without waiting further, let's get started.
Remove suggested contacts from share sheet on your iPhone
Before we proceed further with the guide make sure you've updated your iPhone to iOS 14 because this feature isn't available for the iPhones running iOS 13 or lower.
Step 1: Bring up the Settings App on your iPhone.
Step 2: Head to the "Siri & Search" option.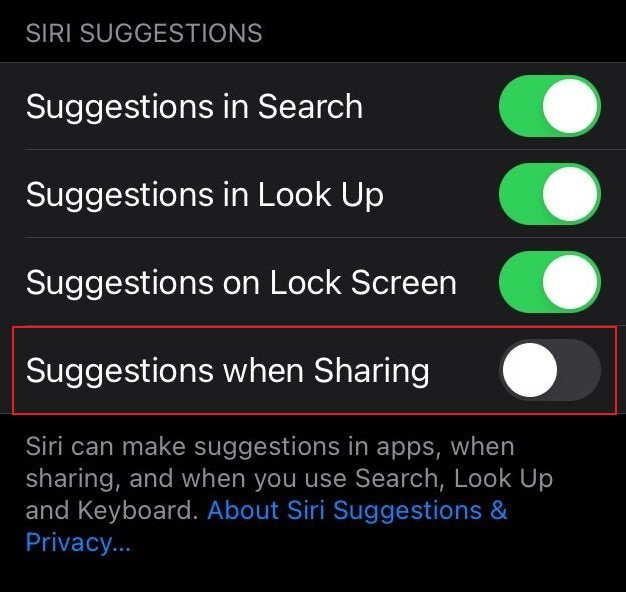 Step 3: Once you are in the "Siri & Search" section turn off the "Suggestions when sharing" toggle and your work will be done. Go back to save your changes.
Now you'll notice that when you tap the "Share" icon in any of the app on your iPhone, you will see all the available or applicable features, except for the suggested contacts list. That's all for this guide. If you liked this, then make sure you share it using the Social Media buttons.