Microsoft Edge is one of the most popular web browsers out there and since it's the default browser on Windows 10 systems millions of people use it in their everyday life. In our everyday usage, we often visit a lot of websites which include social media websites, online shopping websites, and more on which we have our own personal accounts. A lot of users also save their login ID's along with their passwords so they can log in with a single click every time they visit the website.
If you are someone who does this then the newly introduced "Password Monitor" feature is for you. Password Monitor was recently introduced in Microsoft Edge and it allows users to monitor their passwords and notifies if any of them are detected to have been compromised. So if you are registered on any website that is breached, the Password Monitor will guide you with the important steps that you should take to stay protected. This feature was already present in Google Chrome however now Microsoft Edge users can enjoy it too. Let's get started with the guide and take a look at How to get password breach alerts in Microsoft Edge.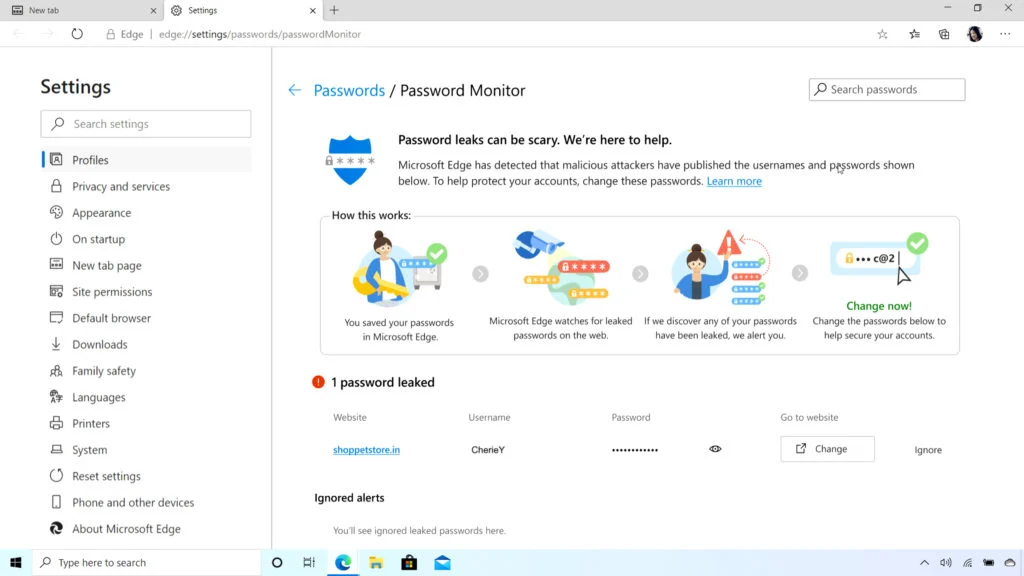 How to get password breach alerts in Microsoft Edge
Step 1: Download Microsoft Edge Dev or Canary version on your computer by clicking here. Upgrading to Dev or Canary version is important because this feature isn't out on the stable release yet.
Step 2: Run the Dev or Canary version of Microsoft Edge on your computer.
Step 3: Head to the Passwords section in your Microsoft Edge browser. To do this, you can either click on the menu from your right and then go to Settings -> Passwords else you can simply copy the following address in your address bar.
edge://settings/passwords

Step 4: Once you are in the Passwords section look for the option that says  "Show alerts when passwords are found in an online leak" and turn on the slider for the same.
That's all! Now whenever something goes wrong with your Passwords Microsoft Edge will automatically notify you for the important actions that are needed to keep your account secured. Were we helpful? Let us know in the comment below and if you liked this guide then make sure you share it using the social media buttons.