It's 2021, we are in the middle of a global pandemic and because of that, there are countrywide lockdowns all around the world. Since everyone is working from home these days, the usage of Apps like Zoom and Microsoft Teams has increased a lot and people use these to connect with multiple people at the same time.
Because of the increasing popularity, Microsoft is continuously working to make the app better and with every update, the app gets new features that make the overall user experience much better. Noise Suppression is one of these features and as the name suggests, it tries to suppress your background noise which means that if you are on a video call or a meeting the background noise from your fan, AC, and more won't mess with your voice from the Microphone.
While enabling Noise Suppression is easy, not many people know how it's done since they are new to the app. Hence in this guide, we are going to show you How to enable Noise Suppression in Microsoft Teams.
How to enable Noise Suppression in Microsoft Teams
Step 1: Run Microsoft Teams on your Windows 10 system. You can open the App from the Start Menu or make a search for it using the search bar.
Step 2: Once Microsoft Teams is running on your PC click on your Profile from the top right corner.
Step 3: Select the Settings option from the drop-down menu that pops up on your screen.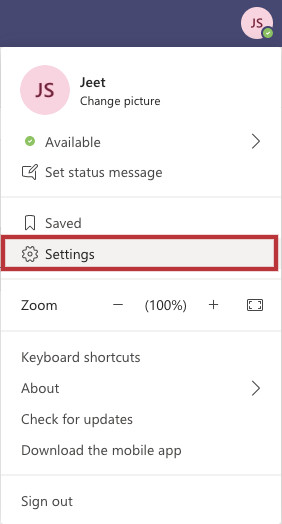 Step 4: Once you are in the Settings menu, click and go to the "Devices" section from the panel on your left.
Step 5: Search for the "Noise Suppression" section and select the noise suppression level from the following options:
Auto: Choosing this option will allow Microsoft Teams to choose the best settings for you automatically.
High: This option suppresses all the background noise except your speech and this is best for users who are in a meeting and communicate actively. However, it is to be noted that, this only works on processors with Advanced Vector Extensions 2 (AVX2) support and uses more system resources.
Low: It suppresses the background voice from your Fan, Vaccum Cleaner, and more. This option is best for users who want to play some music in the background and want everyone in the session to hear that.
That's all, folks! If you don't see the Noise Suppression option yet then make sure you update your Microsoft Teams app to the latest version. Were we helpful? Let us know in the comments below and if you liked this guide, then don't forget to share it using the social media buttons.