Everyone who gets a new iPhone makes use of the App Store to install new apps on the device. While a lot of apps on your iPhone don't really need your location access, some apps like Amazon, Facebook, Instagram, Weather, and more need location access so they can provide you better results. These apps use location services to track your real-time location and if they are running in the background they can also drain the battery life on your iPhone.
Thankfully, iOS allows you to manage your permissions which means that you can disable your location permission for individual apps on your iPhone. Now whether you want to disable location permission for privacy issues or you just want to extend your battery life it just takes a few clicks to revoke location access. While doing this is easy, the people who are new to iOS might not know how it's done. Hence in this guide, we are going to show you How to disable location permission for specific apps on iPhone. Without waiting further, let's get started.
How to disable location permission for specific apps on iPhone
Whenever an app is using your location on the iPhone, you'll notice a small triangular shaped icon on your status bar. However, you can take control of your location with a few clicks. Have a look at the steps below to see how it's done.
Step 1: Bring up Settings on your iPhone. You can either do this from your Homescreen or you can make a search for it in your App Libary if you are using iOS 14.
Step 2: Once you are in the Settings menu, swipe to the bottom and search for Privacy.
Step 3: When the Privacy page pops up on your screen tap on Location Services.
Once you are in the Location Services section, you'll have the complete list of apps installed on your iPhone. Simply tap on the App for which you want to change location controls and choose from the following options – Never, Ask Next Time, While Using the App, and Always. Choosing Never will completely disable the location access for the App you've selected.
If you don't want a single app on your iPhone to access your location, simply disable the Location Services slider from the top and go back to save your changes.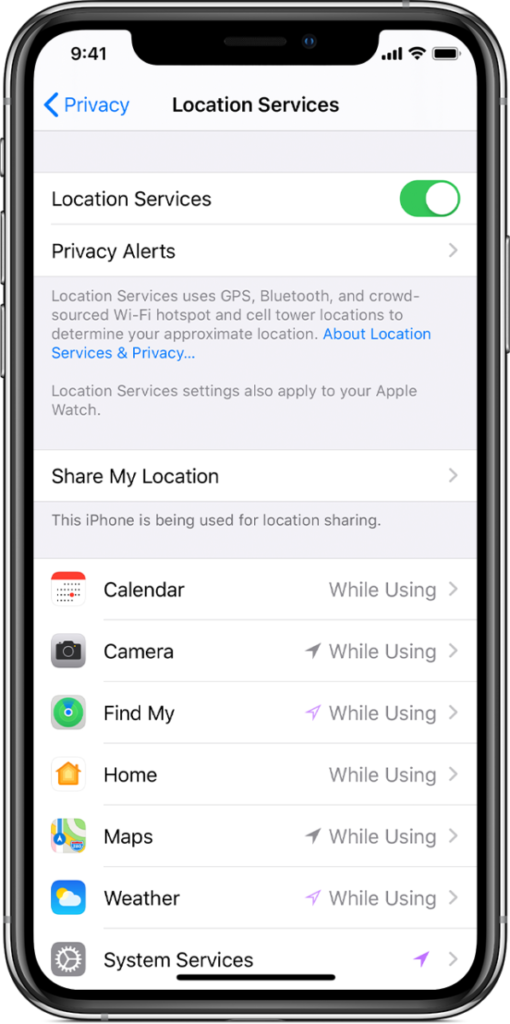 That's all, folks! Were we helpful? Let us know in the comments below and if you liked this guide, then don't forget to share it using the social media buttons.